Jay-Z is one of hip-hop's greatest artists of all-time. Don't believe us? Think of it: He's been in the rap game since 1995 and continues to support the industry today, guiding the younger artists and giving them the platform to shine. Likewise, he has 13 consecutive Billboard No. 1 album debuts.
But aside from being a stellar rapper, Jay-Z is also a huge source of inspiration. From humble beginnings, he's now become the world's first hip-hop billionaire — he's living proof that it is possible for someone to rise to the top. So how did it all begin? Let's trace the pivotal moments in the life Jay-Z.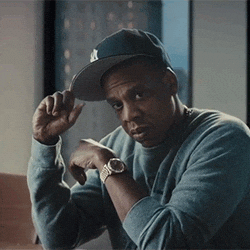 The Chat with a Multi-Billionaire
Jay-Z wouldn't be a billionaire today if he didn't make the right decision. Thankfully, it seems that he got sound financial advice from a reliable individual. In particular, he met none other than Warren Buffett back in 2010. They had a meaningful discussion, and Buffet even said that there's a lot the young can learn from the rapper.
From this meeting alone, we can see how determined Jay-Z was to build his empire. He had the ambition — all he needed now was guidance. He was already a multi-millionaire at the time, but the artist knew there was much more to accomplish. And in less than 10 years, he realized his goal of being a billionaire.
A Rough Start, But a Lot of Passion
To understand just how remarkable Jay-Z's success is, we need to see his beginnings. For one, he lived in a housing project. His father Adnis Reeves left when he was a child, so it was up to his mother Gloria Carter to raise all four kids. Life was difficult growing up. He sold drugs and was even shot a few times.
Yet with all the chaos, he realized something. He would often go to the kitchen to play drum beats, so much so that his mother decided to give him a boom box. This then prompted Jay-Z to explore the world of freestyle rapping and create his lyrics. Eventually, he'd be known in his area as Jazzy.
He'd go on to establish his record label in 1995 and release his first album the following year. From there, Jay-Z would land a deal with Def Jam and continue his meteoric rise to the top with one critical and commercial success after another. Simply put, he was beginning to build his financial capital.
Continued Success and Diversification of Business
So what did Jay-Z do? He invested in multiple industries. He once had a clothing line called Rocawear, which he sold for about $200 million. His Tidal streaming service was valued at $600 million in 2017. Jay-Z also owns Armand de Brignac, and that alone gives him at least $300 million. He's dipped money into Uber, real estate, and the D'usse — a cognac brand he owns alongside Bacardi. Then you add in his $70 million art collection and his $75 million music catalog.
The lesson here is simple: Find something you're good at, make money out of that, then diversify your investments. He first ensured that he had the resources to look into other businesses. Thus, Jay-Z knew the value not only of hard work but also of knowing where to put one's money in the long run.